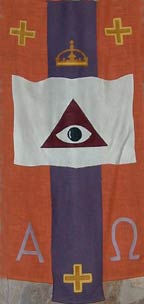 The Three Long Panels and the Maroon Triangle - The Trinity.

The Eye - God's providence and control of all life and history - a dominant theme of Westminster

The Crown - God's Rule

The Open Bible - The authority of the written Word, basic to this Confession's teachings.

The Alpha and the Omega - The A and Z of the Greek alphabet, the first and last - referring to Christ and his death for us as central to our faith.